People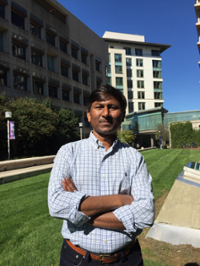 Thota Ganesh, PhD
Associate Professor
tganesh@emory.edu
B.Sc. In Chemistry, Physics and Biology from Osmania University, Hyderabad, India.
M.Sc. In Organic Chemistry from Osmania University, Hyderabad, India.
Ph.D. in chemistry from Osmania University, India. Where he investigated synthetic methodologies and chemical investigation of indigenous plants.
He obtained postdoctoral training at Indian Institute of Technology-Bombay (Mumbai) in Dr. Sambasivarao Kotha laboratory; University of Durham (UK) in Dr. Patrick Steel laboratory on synthetic methodology and total synthesis areas; and, then at Virginia Tech in Dr. David G. I. Kinston Laboratory on total synthesis of Taxol and Epothilone derivatives, before moving to Emory University. 
Link to Ganesh's publications in PubMed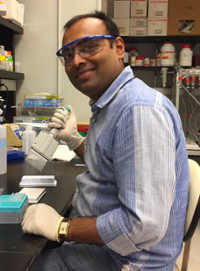 Avijit Banik, PhD
Postdoctoral fellow
Biochemistry and Molecular Biology
avijit.banik@emory.edu
M.Sc. in Biotechnology from Bangalore University, Bangalore, India  
Ph.D. in Neuroscience from Postgraduate Institute of Medical Education and Research (PGIMER), Chandigarh, India (2014).
In his Ph.D. thesis he investigated the role of transplanted human umbilical cord blood derived lineage negative stem cells in reversing memory deficits induced by amyloid-β in a mouse model.
Employed as Senior Demonstrator (2014-2015) in Neuroscience Research Lab, PGIMER, Chandigarh, India
He obtained postdoctoral training from the Department of Anatomy, Yong Loo Lin School Of Medicine, National University of Singapore (2015-2017) working on diabetic induced epigenetic changes in mouse fetal neural stem cells and human neural progenitor cells to identify disease modifying diagnostic and therapeutic signature for neurodevelopmental disorders.
Current research focus: Alzheimer's disease (AD) is associated with substantial medical and societal burden, but, no therapy that clearly alters the disease progression is currently available. Decades long investigations on amyloid and tau pathology has helped us to elucidate the pathophysiological features of AD but it did not corroborate into any disease modifying therapy. Recently the AD research has shifted its gear in mining the neuroinflammatory pathways to find a prudent treatment strategy. Recent gene knockout studies indicate that prostanoid receptor EP2 exacerbates AD pathology in rodents. Thus, we aim to investigate the role of EP2 inhibitors in suppressing/altering neuroinflammation in AD brain and suppress neuropathology and cognitive deficits in rodent models and human AD patients.
Mohammed Shabber, PhD
Postdoctoral Fellow
Synthetic Organic Chemistry
Postdoctoral fellow, synthetic organic chemistry I received my B. Sc. (2004)and M.Sc. Organic Chemistry (2007)from Osmania University, Hyderabad, India. I worked in Symphony Pharma Life Science as a Research Chemist for 1.4 yrs. I qualified CSIR-UGC Fellowship in June, 2008. Due to my immense interest in drug discovery, I had proceeded to join my doctoral research (2009) under the mentorship of Drs. Ram A. Vishwakarma (Director) and Sandip B. Bharate at CSIR-IIIM, there my work focused on "Design and Synthesis of Fused Pyrimidines as Isoform Selective PI3K-α Inhibitors and Development of New Synthetic Methodologies for Carbon- Heteroatom Bond Formation. During my PhD work, I have synthesized structure based analogs which led to the discovery of two lead molecules (IIIM-MCD-817 and IIIM-MCD-873). After completion of my PhD, I worked in Piramal Discovery Solutions and GVKBIO as a Research Scientist for 1.4 yrs. Now I am working as a Postdoctoral Researcher in Emory University under the supervision of Dr. Thota Ganesh. My research is primarily focused on medicinal chemistry around EP2 selective inhibitors for use in the treatment of neurodegenerative diseases. I also interested on development of new methodologies using C-H activation strategy.
Radhika Araradhi, PhD
Synthetic Organic Chemistry
Currently working on the development of selective EP2 antagonists towards the biological problems. My long term goals include development of methodologies and their application in the synthesis of biologically active molecules and asymmetric organocatalysis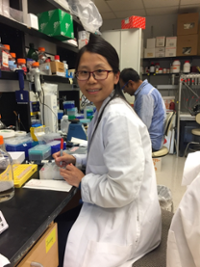 Ms. Wenyi Wang
Lab manager
Molecular biology
For more information on Ms. Weng click here.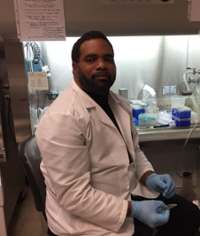 Asheebo Rojas, PhD
Instructor, Neuropharmacology
For more information on Dr. Rojas click here.